Nottingham Green Partnership
Carbon neutrality is something that cannot be achieved by one organisation alone
The City Council is responsible for approximately 2% of the city's CO2 emissions. It is important that all business, organisations, workers, residents, and visitors to the city play their part.
Key to this is collaboration and the City Council is at the heart of this. The City Council works with key city partners through the well-established Nottingham Green Partnership which recently celebrated its 30th anniversary, after being formed in 1992. The partnership consists of over 40 organisations and businesses and works across Nottingham to develop, share, and encourage businesses and organisations to work together to deliver carbon reduction strategies.
Across the city, vital work is being done by the partnership members to contribute to Nottingham's carbon neutral ambition. Some successes from across the partnership include:
Browne Jacobson, a solicitor's firm, introduced an electric vehicle scheme as part of their employee benefits package
Nottingham University Hospitals NHS Trust are replacing all windows at Queen's Medical Centre and installing a new low energy heating system to be completed March 2025. These improvements will reduce the Trust's carbon footprint by 12,000 tonnes CO2e 
Nottingham Trent University now have 15 buildings with roof-mounted solar panels, and have used their 'Pack for Good' scheme to divert 155 tonnes of waste from landfill
The University of Nottingham have installed air source heat pumps to heat their swimming pool, and replaced their standard gas boilers with high efficiency condensing boilers
Local businesses like LeftLion are going carbon neutral, or starting out on their journey to understand their emissions through funded university programmes and Nottingham BID's carbon literacy training.
Take a look at the Nottingham Green Partnership's progress in the latest annual review.
Organisations can request to join the Nottingham Green Partnership by emailing climatechange@nottinghamcity.gov.uk.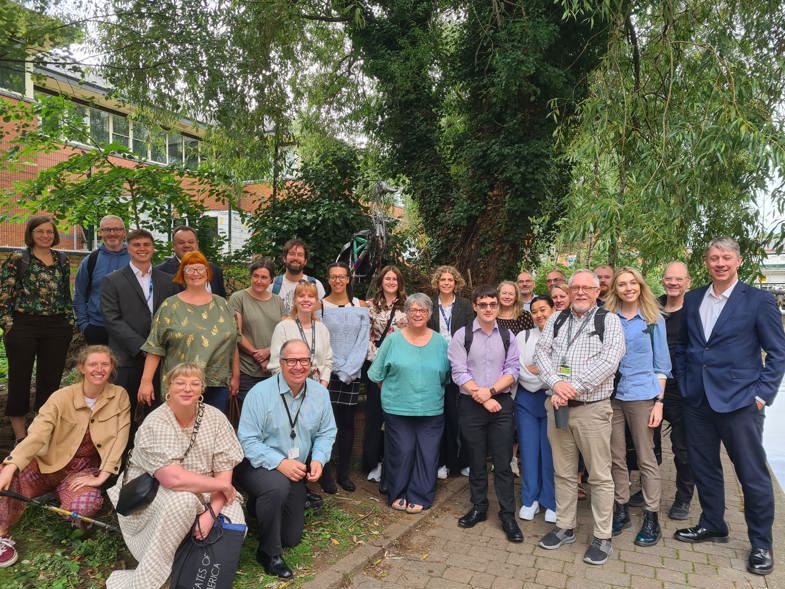 Nottingham Green Partnership members at the heron sculpture installed on the canal as part of the Green Hustle Festival (August 2023).